Find The Good: Unexpected Life Lessons From a Small-Town Obituary Writer
By Heather Lende
Algonquin Books of Chapel Hill, 2015
When Heather Lende was asked to write an essay on wisdom she would recommend people to live by, she boiled it down to, "Find the good." The Alaska resident is an obituary writer in her small town and says that writing obituaries is her way of, "…transcending bad news. It has taught me the value of intentionally trying to find the good in people and situations." Lende believes it's a practice, finding the good rather than the negative, and it has made her life more meaningful.
In each chapter, she tells the story of people in her community, people with whom she's lived life, and shares what she learns as she writes their obituaries, carefully and reverently giving their lives the dignity of a story. As she tells what she's learned, Lende also braids in her own stories of family, work and pets.
"Looking for the good may be part nature, but it can be nurtured…I have learned it by writing obituaries, raising a family, and living in a small town," Lende writes.
Kitchen Table Wisdom: Stories That Heal
By Rachel Naomi Remen, M.D.
Riverhead Books, New York, 1996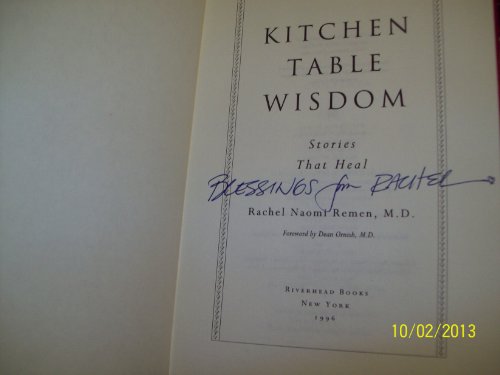 I revisited a book that I had read when my children were small. Written by physician Rachel Naomi Remen, it's a compilation of stories she had gathered over the years as a physician who understood the healing power of listening to her patient's stories and telling stories of her own. Remen developed an unconventional way of helping people in their own healing by teaching them to rely on their own wisdom. She tells the story of Sara, who like herself, suffered with Crohn's disease for more than 30 years with numerous hospitalizations and surgeries. When Sara's dentist told her she needed a minor surgery, Sara went into a fearful depression. Remen met with her and helped her to use her own story and imagery to overcome her fear of the surgery, which was minor in comparison of all that she'd been through. Through her visualization, she revisited each surgery and by the time she had finished, she saw how strong she'd been through all of them. By remembering her story, she had the power to overcome her fear.
Remen encourages the telling of stories and the listening to stories for the benefit of healing. "Sometimes when I ask people to tell me their story they tell me about their achievements, what they have acquired or built over a lifetime. So many of us do not know our own story," she writes. "A story about who we are, not what we have done. About what we have faced to build what we have built, what we have drawn upon and risked to do it, what we have felt, thought, feared and discovered through the events of our lives. The real story that belongs to us alone."
Remen has paved the way over the last two decades for physicians to recognize the wisdom patients carry in their heart and souls.
A Simple Act of Gratitude: How Learning to Say Thank You Changed My Life
By John Kralik
Hyperion, New York,

In 2007, Attorney John Kralik experienced a slew of hard knocks in his personal and professional life–business was bad, a difficult divorce, money problems and a distancing from his grown children. He felt like a failure and was no longer able to pretend everything in his life was fine.
Starting the new year on a hike, he determined that he wanted to pull himself from negative circumstances that now seemed to define him. Drawing from a childhood experience, he remembered something his grandfather would do to teach the value of saying thank you. Whenever John would send a thank you note to his grandfather, his grandfather would in return end him a silver dollar. It was also on this New Year's Day hike that he said he heard the message loud and clear, "If you are not grateful for the things you have, you will not receive the things you want."
Kralik made it a goal to find one person each day to thank with a hand-written thank you note.  "If my grandfather was right, I would have a lot more of what I was thankful for by the end of the year," he writes.
He looked closely at people and situations that he could be grateful for. He thanked his legal assistant for her diligence and enthusiasm at work, even when business was bad. A Starbuck's barista who served him each day was moved by Kralik's note of thanks because often the barista only received complaints. He wrote notes of appreciation to people for taking time out of their days to have business meetings with him and he wrote notes of thanks to his children and his ex-wife. His book captures the exercise in gratitude and by the end of it, he had written and sent more than 700 notes of thanks.
The practice of writing a thank you note each day pulled him away from being self-focused and intent on examining what was going wrong and placed his focus on the lives of others. He began looking for the small and big things that needed acknowledgements of gratitude.
Saying thank you over and over did eventually lead to Kralik's circumstances changing, but first his mental outlook changed. Instead of seeing all the things that were wrong in his life and wanting to give up, he noticed that what makes life worth living is gratefulness.